Loess panel infrared heaters
Using natural Korean red clay (Loess) with patented far infrared rays cotton mesh heating elements in construction of your infrared sauna will make you sauna unique and a healthiest place in your house.
Loess, also known as red or yellow clay, has about 200 million microorganisms and there are numerous enzymes' circulation actions in it. From very early ages, people thought Loess is a living life and it has been used as a soil of healthy longevity with the nature of a medicine.
Loess (clay) is called as living substance as it emits a lot of far infrared rays itself. Huge space in Loess forms multi-story structure as honeycomb structure with wide surfaces. For centuries red clay was used in therapeutic purposes in Korean traditional medicine. Nowadays a lot of cosmetics manufacturers use Loess to enrich their products with its microelements or as a separate cosmetics.
Clay heaters discharge up to 91% of far infrared heat (IR-C) as with negative ions, that help push out of sweat and wastes from your body.
Custom built Loess infrared cabins
We are also offering to built-in Loess heaters into INFRADOC® infrared cabins. Loess far infrared heaters in combination with Western Red Cedar wood is the purest and healthiest sauna you can get!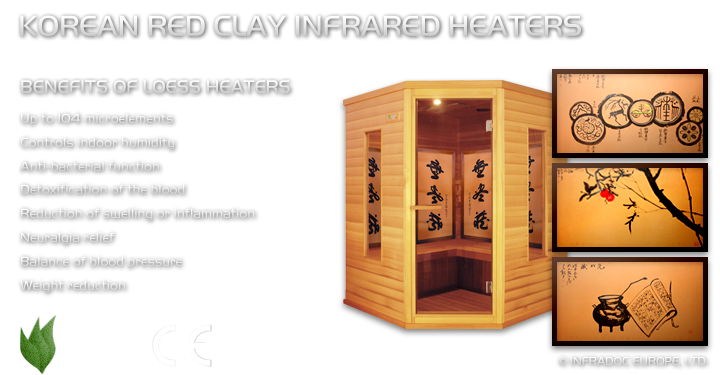 Size
700 × 1000, without frame
Heating element
Cotton mesh heating element (patented)

Share
Order: 250€