INFRADOC® incoloy infrared heaters
We offer U-type INFRADOC® far infrared heaters with Magnesium Oxide filling for your DIY infrared sauna or as an extra part for your existing sauna. It is possible to built-in our heaters to allmost any sauna.
INFRADOC® Incoloy far infrared heaters are spreading the heat all over the cabin, making your body warm in minutes. Every cabin should be equipped with it's certain amount of far infrared heaters.
Corrosion resistant
Oxidation resistant
High temperature creep resistant
More efficient at high temperatures
Yo can get more information about Incoloy infrared heaters and see the comparison to other types of heaters in Infrared heaters section, and we suggest you reading the Infrared sauna buyer's guide: Infrared heaters, also.
Types of heaters
There are two types of heaters we offer: corner, for mounting infrared heater to the corner of sauna and standard, straight heater that can be built-in to the wall. The heaters are only 6.5cm (2.56 inches) in depth, so it won't be a problem to mount it into any wall. Corner type heaters does not require to cut the wall for mounting.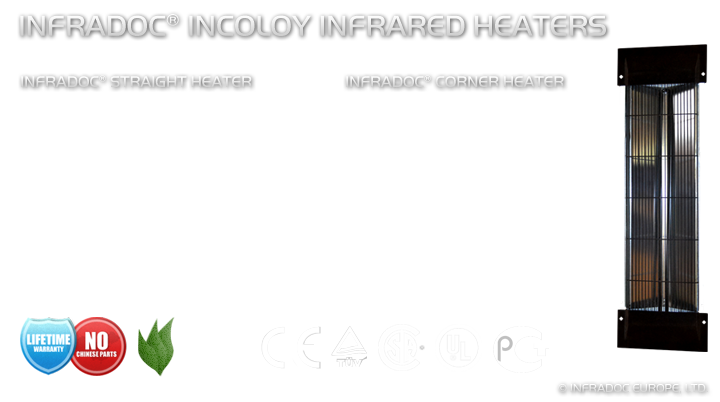 Description
INFRADOC® provides lifetime warranty on Incoloy heaters for private use and 15 years commercial warranty. Please read Warranty terms for detailed information on INFRADOC® warranties.
Warranty (private use)
Lifetime
Warranty (commercial)
15 years
Type
Far infrared, IR-C, U-type, incoloy, corner or straight
Certifications
TUV Safety Certificate, CE, CSA, UL

Share
Order: 90€