Infrared sauna buyers guide
Before you make a decision to buy infrared sauna for your home or business, please take in your mind these buyers tips to avoid mistakes or harm yourself.
Buy from a reputable company
There are a lot of companies offering infrared saunas on the market, but only few of them know what they really are selling. Also there are lots of fly-by-night companies that will be more than happy to charge your credit card online in exchange for a cheap sub-standard product. When you have a problem then the company is difficult to contact and may have changed their name, alias, or gone out of business. Do your research and make sure you choose a reputable company, otherwise your warranty and guarantee may turn out to be worthless.
If you are unsure it is always good to check the business name, company number and VAT number.
INFRADOC EUROPE, Ltd. is an established company that have been in professional industry of infrared saunas for years. The founder of the company, Igor Skvortsov has been selling infrared saunas since 1999, after several market researches and studies on infrared saunas.
We have a clean credit record and carry no debt. INFRADOC EUROPE Ltd., is registered in Latvia and European Business Register (VAT No.: LV50003729701). INFRADOC® is a registered trademark in European Union, you can also view Intellectual Property Office Case details for INFRADOC® Trade Mark.
Infrared heaters
One of the most important elements of the infrared sauna are heaters. Infrared sauna manufacturers today offer a various range of heaters, such as carbon, incoloy, ceramic, quartz, quartz tungsten and other types of heaters. Making a decision which is the best heater type for you is becoming a headache. Here we will shortly describe advantages and disadvantages of the heaters available today.
Carbon panel infrared heaters
Ceramic infrared heaters
Quartz/Quartz tungsten infrared heaters
INFRADOC® infrared saunas are equipped with Incoloy far infrared heaters and innovative Nano 360° heaters, providing you with the mildest and effective far infrared heat.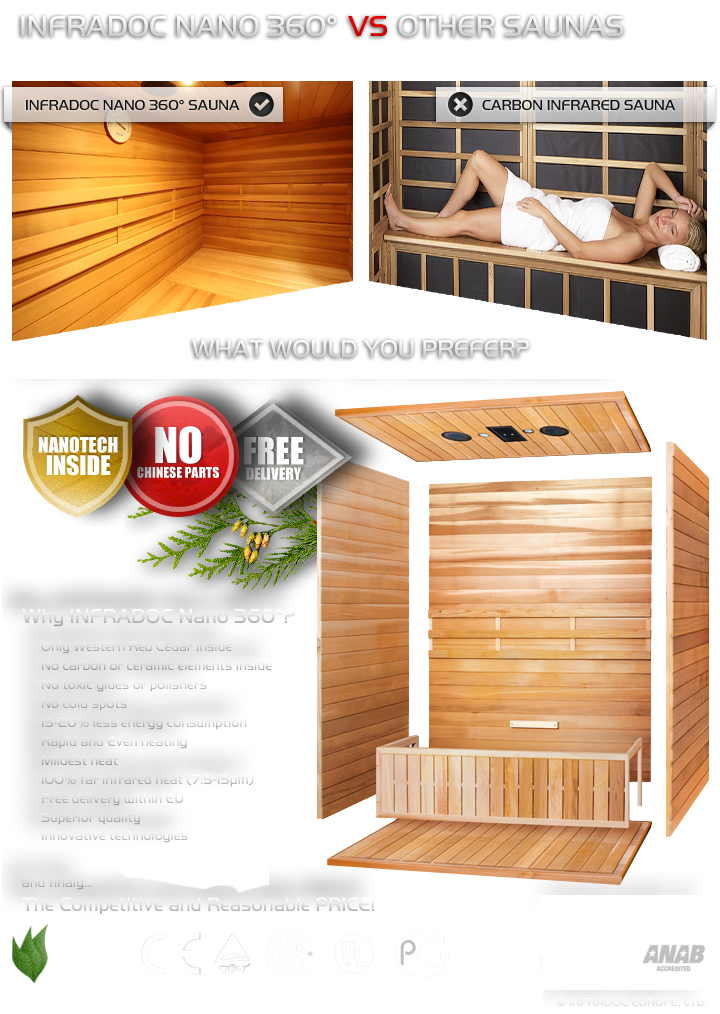 Type of wood
Since the wood used in some saunas is kiln dried, a certain amount of expansion and contraction occurs in the wood in a sauna environment. This may result in minor cracks, which is considered normal by some manufacturers and sellers and not covered under any warranty. Do you agree with these terms?
The cedar that is used for INFRADOC® cabin production is dried for minimum of 3 weeks under the sun to preserve the wood's natural state. This method also guarantees that the wood will keep all essential oils that has the unique ability to kill bacteria and mold, keeping your sauna smelling fresh. The wood will never bend out of form, crack or lose its colour.
Western Red cedar may be very different, depending on:
age of the tree

We care about the nature and work only with certified wood suppliers. To keep forest natural renovation process, Western red cedar that is supplied for production of INFRADOC® infrared saunas is over 300 years old.

time of the year when the tree is cut

The cedar that INFRADOC® uses is cut in winter, because all essential oils and nutrients of the tree, are kept inside a trunk and used by a tree during a long and cold Canadian winter. Winter cutting and further wood processing allows to keep these volatile aroma compounds for ages in every plank.

a part of the trunk used for plank production

Sapwood is one of the two parts that make up the inner part of the trunk. These parts together form the xylem. Sapwood is the outer most part of the xylem and brings water and nutrients from the roots to the rest of the tree. As the tree grows, the sapwood cells die off and these dead cells form the heartwood. Heartwood is the second part of the xylem. Located in the very center of the tree, heartwood is darker than sapwood because of all the sugar and dyes stored in the cells.

Only heartwood — the most qualitative, durable and expensive part of Western Red Cedar trunk is used for INFRADOC® cabin planking. A-grade cedar is manualy sortet by colour and pattern.

how the wood is dried

Western red cedar after is dried after its first processing. The wood is dried naturally on open air, under the sun for six weeks. INFRADOC® does not use high temperature stoves for drying. Extremely high temperature is causing all essential oils to evaporate and burn out with water molecules. Natural drying also guaratees that the wood will never bend out of form, crack or lose its colour.
You can check the production process in INFRADOC production section.
PLEASE NOTE
Some producers may tell that they are using Western Red Cedar, but never tell you about the certifications, age of the trees, grade of wood or way it is dried. Western Red Cedar's essential oils that has the unique aroma and ability to kill bacteria and mold is what you want to get and pay for.
Price of infrared cabin
Unfortunately, miracles happen only in fairy-tales, please remember that high-quality product cannot be cheap.
A product or service, can be thought of as having three dimensions: quality, cost, delivery or QCD. These three dimensions - QCD - are like the three legs of a stool on which the customer would sit.
Product quality is the attribute desired by the buyer and gives the product its primary value and usefulness to him. Specifications, tolerances, dimensions, durability, reliability, features, and variety are examples of quality indicators.
Cost, the second dimension, refers to the cost of producing and delivering the product to the customer.
Delivery involves bringing the finished goods or services to the customer at the right time, at the right quantity or amount, at the right place. Delivery performance includes service levels, product availability, and order processing time.
Be sure, that buying the INFRADOC® infrared sauna you don't need to worry about quality. We use only high-quality materials and best technologies in production of infrared cabins.

INFRADOC EUROPE, Ltd.